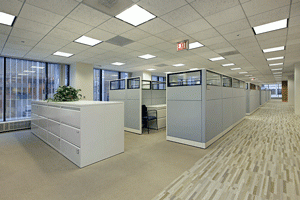 There are many factors involved with a comprehensive green carpet care program, including equipment, processes, and products.  There is never a "one-size fits all" when it comes to the best program for your facility so we encourage you to contact one of our experts to evaluate and recommend the best program for your needs.
Here are a few of our suggestions for more environmentally friendly carpet care:
Daily Cleaning:
It is imperative to remove soil to minimize long-term damage to carpet fibers, particularly in high traffic areas.  Areas with a high volume of foot traffic, particularly by entrances, should be vacuumed daily.  Use high performance vacuum bags and change them before they are 75% full.  We stock a variety of vacuum bags that have been tested by an independent laboratory and outperform genuine OEM bags by delivering up to 99% micro-filtration at .3 micron.  That means cleaner and healthier indoor air quality.
Daily Spotting:
As part of the daily cleaning procedure, carpet spots should be immediately addressed. Majestic Cherry Almond Triple Action Wipe is EcoLogo Certified™ and combines advanced surfactant technology (for all types of soils and stains) with a broad-spectrum odor counteractant (to neutralize malodors).
Interim Cleaning:
Encapsulation cleaning keeps carpets cleaner and fresher in between deep extraction cleanings. For interim cleaning, Multi-Clean ECO2 Encapsulating Cleaner with Oxygen is Safer Choice recognized and works with a low moisture system to encapsulate soils for easy removal while destroying odors.
Deep Cleaning:
Intensive carpet cleaning with pre-spray and hot-water extraction removes deeply embedded soils and restores the carpet to a pristine condition.  For very heavy traffic areas, such as facility entrances, deep cleaning should take place on a weekly or monthly basis.  Low traffic areas, such as storage areas or individual offices, should be deep cleaned between 1 to 3 times a year.  Majestic Pre-Spray and Extraction is an environmentally responsible, multi-purpose carpet cleaner for deep cleaning and pre-spraying.  We like it because it is EcoLogo Certified, has the CRI Seal of Approval, and provides user flexibility.
> View our inventory of vacuum bags
> Read more about Majestic Cherry Almond Triple Action Wipe
> Download information about Multi-Clean ECO2 Encapsulating Cleaner