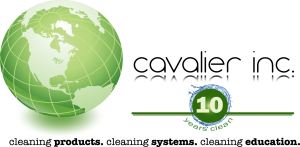 It was ten years ago this summer that the current management took the reins of Cavalier, Inc. with a fresh, new vision of how your janitorial supplies provider should meet your facility needs.
In those 10 years we've come a long way, continuing to bring you vetted, innovative cleaning and maintenance products, procedures, and equipment.
To remember our beginning, here are 10 memorable events of 2006:
Google buys You Tube
Unemployment drops to 4.4%
The airline "3-1-1" for carry-ons is instituted; 3.4 ounces in 1 quart bag per passenger
The housing bubble bursts with over 1.2 million foreclosures filed.
Taylor Hicks wins American idol season 5
Winners at the Emmy Awards include "The Office" for outstanding Comedy Series and '24" for Outstanding Drama Series.
In the movie theaters: "The Devil Wears Prada", "An Inconvenient Truth," "Pirates of the Carribbean: Dad Man's Chest," and "Night at the Museum"
An outbreak of e-coli bacteria in spinach sickens 199, kills three in a total of 26 states.
Hot items at the 2006 ISSA SHOW include: Nano Technology and Steam Vapor cleaning; "Spin-n-Drop" Microfiber Mop; Brushed Aluminum restroom dispensers; Interim carpet care cleaner using low moisture encapsulation.
CIRI (Cleaning Industry Research Institute) organizes and debuts with its presence at ISSA
Follow us throughout the year for more "10th Anniversary" news & notes!