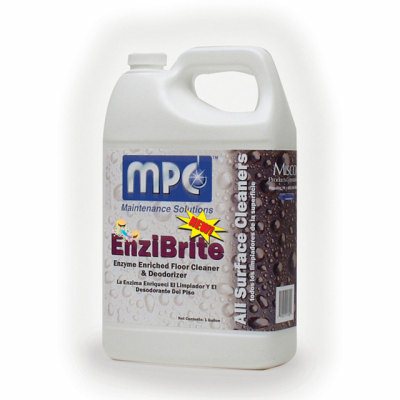 When bio-enzymatic cleaners first emerged in the custodian closet, they were primarily seen as effective solutions to clear grease traps and drains.  As time has passed, this exciting new genre of cleaning products has proven to be effective in a number of facility maintenance applications.
Bio-enzymatic cleaners contain a mixture of enzymes and bacteria that work in concert to effectively clean and remove odors.  Different bio-enzymatic products will contain different mixtures of enzymes and bacteria, depending on the cleaning job for which they are formulated.

The enzymes in the bio-enzyme formulation act as a chemical catalyst to break up the more complex molecular composition of soil and waste into smaller, simpler pieces.  These simpler molecules can then be easily digested directly by the bacteria in the bio-enzyme formulation.
Perhaps the most impressive performance of bio-enzymatic cleaners is their odor-fighting prowess.  Because of their composition, they continue to work long after their initial application to the surface.  Many users are delighted to experience the benefits of these cleaners working up to 80 hours after they are applied as they continue to digest odor-producing bacteria.
Obviously, bio-enzymatic cleaners are quite popular for restroom cleaning and odor control, especially as they continue work in porous grout lines and reach the actual cause of odors.
In addition to odor control and restroom cleaning, facility managers find bio-enzymatic cleaners are effective for use in food prep/kitchen area cleaning and to remove spots and stains in carpets.
Cavalier carries the MISCO  Enzibrite Floor Cleaner that is ideal for use in restrooms and food service areas, as well as schools, hotels, hospitals, and long-term care centers.  It is formulated for use on hard surfaces such as concrete, ceramic tile, quarry tile, grout, brick and rubber mats.
Having difficulties with carpet stains and odors?  Check out the efficacy of the Majestic Triple Action Cherry Almond Enzyme Carpet Cleaner.  This RTU, multi-enzyme carpet spotter and deodorizer uses a broad-spectrum odor counteractant to neutralize the malodor while bacteria attack and eliminate the stain.  Additionally, your stain-resistant carpet is restored  to its original protective properties.