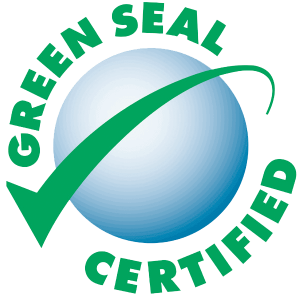 Have you had difficulties in removing a green floor finish with a traditional floor stripper?
Most green floor finishes have calcium interlocks compared to traditional floor finishes that have metal interlocks.  Therefore, most traditional strippers are formulated to unlock the zinc cross-linking bonds found in metal interlocked floor finishes, not calcium.
Although there are green strippers that can remove both traditional and green finishes, for best results with a green floor program we recommend sticking with using a green floor finish with a green stripper.
There are over 40 Green Seal certified floor strippers available and even more green finish options, but we have found great results with products from Essential Industries.  The Essential Green Strip floor stripper does not leave behind any alkaline residue, making rinsing much faster and easier and eliminates many common re-coat problems. It is a stripper that can remove traditional floor finish and is non-corrosive per DOT.
The G2 Green Finish High Performance Floor Coating is a combination seal and finish.  Its low emission formulation meets the new 1% VOC regulation.  The APEO-free and phthalate-free formulation dries in a super-fast 20 minutes. Plus, it won't yellow and provides industry-leading black mark and scuff resistance.
Call us today for more information!