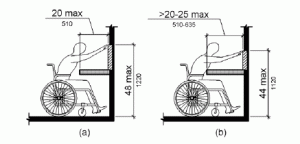 The American Disabilities Act (ADA) was signed into law in 1990 and requires facilities to make accommodations for disabled people.
When it comes to hand soap dispensers or hand sanitizing dispensers, there are a couple of requirements you need to be aware of:
Reach Ranges for Counters
Soap dispensers should not be placed higher than 44 inches if the reach depth (counter) is more than 20 inches but not more than 25 inches in depth.
Reach Range for Walls
Where there is nothing on the floor to obstruct access to the hand sanitizer dispenser, it needs to be no higher than 48 inches from the floor (and not lower than 15 inches)
Protrusion from Wall
When mounting a dispenser on a wall, the soap dispenser cannot protrude more than 4 inches from the wall.
Operation of dispensers
Dispensers should be able to dispense soap or hand sanitizer with the use of one hand and should not require tight grasping, pinching, or twisting of the wrist. The force required to activate the pump cannot exceed five pounds.
Make sure you are in compliance, as non-compliance can result in legal action including citations, business license restrictions, fines, and injunctions requiring the business to remedy the conditions. Check out Cavalier's top-dispensing hand soap dispensers that provide ADA compliancy along with many other great features.
> Read / download full ADA Standards
> Check out Cavalier's ADA-compliant soap dispensers